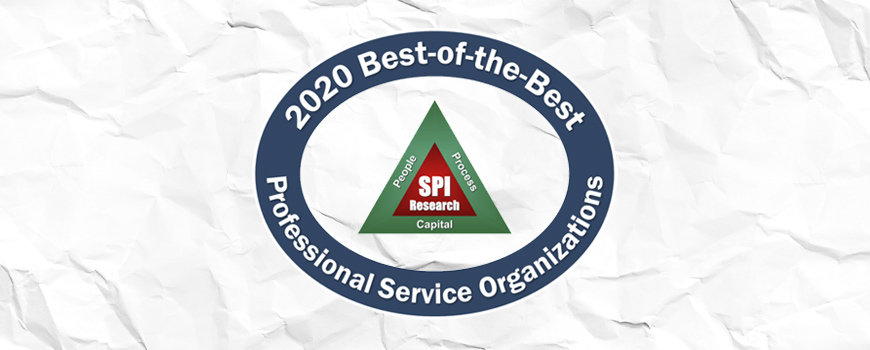 Kinsmen Group soars above their peers with more reference customers, higher profits, superior revenue & growth
Kinsmen Group soars above their peers and the benchmark average with more reference customers, higher profits, superior revenue and headcount growth. #PSBestoftheBest
Houston, TX – February 3, 2020 – Kinsmen Group, a specialist supplier of engineering information services and solutions, was named in the top 5% of Professional Services (PS) organizations by Service Performance Insight Research (SPI Research) for the second year in a row.
SPI Research is a leading independent technology services research firm. Every year, SPI Research completes the Professional Services Maturity™ Benchmark designed to help organizations understand their performance compared to that of their peers. The benchmark provides insights into critical business processes and key measurements so organizations can compare, diagnose, and improve their performance.
This year 513 organizations participated in the survey and Kinsmen Group was among the top 25 organizations to outperform their peers across five critical service performance dimensions: leadership, client relationships, human capital management, service execution and finance and operations.
According to SPI, the Best-of-the-Best top performers grew both revenues and new jobs at almost twice the rate of average firms and they were far more likely to deliver mission-critical projects on-time and on-budget to satisfied clients than average firms, with 25% more reference clients than typical consulting firms. The Best-of-the-Best augmented their consulting workforces by 14.4% compared to 8.7% for average firms. Their revenue growth was even more impressive, eclipsing average firms by 90%!
Because of their sterling reputations, a significant portion of their business comes through referrals. Each winner has developed a culture of excellence that helps them attract and engage a talented workforce; giving them a leg up in the on-going war for skilled talent.
"It's an honor to be recognized among the Best-of-the-Best for the second year in a row. This achievement reaffirms our dedication to building a culture of excellence where the success of our customers is paramount. We believe that our inclusion in the 'Best-of-the-Best' professional service organizations is testimony to our dedication in helping our customers meet their business objectives," said Brian Sallade, CEO of Kinsmen Group.