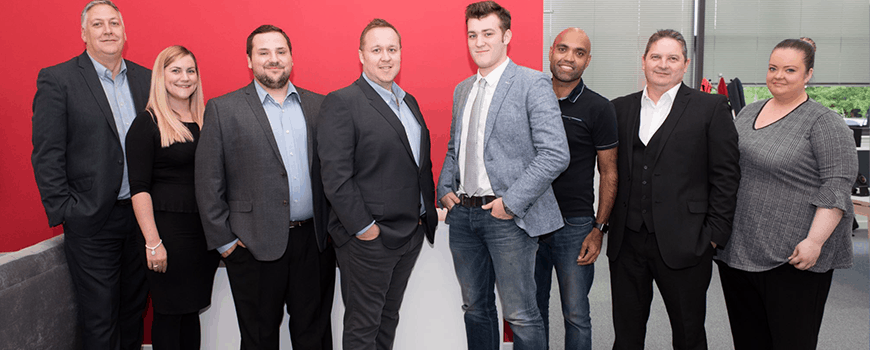 M-Files AI-Powered Information Management Solution Helps Kinsmen Group Achieve ISO 9001:2015
BSI, a world-renowned independent auditing firm performed a thorough inspection of the Kinsmen
Group for adherence to the quality management principles established by ISO 9001:2015. The
certification provides independent confirmation that Kinsmen Group meets the ISO 9001:2015
requirements.
Houston, TX and DALLAS – Feb 21, 2019 – Kinsmen Group, a specialist supplier of engineering information services and solutions, today announced it has achieved ISO 9001:2015 certification, the world's leading standard for quality management systems (QMS). Kinsmen Group received the certification for the design, development, delivery and support of its information management solutions which utilized the M-Files intelligent information management platform. The new accreditation demonstrates the company's commitment to excellence for pharmaceutical, chemical, biotech, and oil and gas industry clients.
"We are extremely proud to have earned this ISO 9001 certification," said Brian Sallade, CEO of Kinsmen Group. "We believe this demonstrates our culture of continuous improvement. We work with companies that operate in quality-driven industries and this certification emphasizes our ongoing commitment to exceeding our customers' expectations and being a leader in our field."
BSI, a world-renowned independent auditing firm, performed a thorough evaluation of Kinsmen Group for adherence to the quality management principles established by ISO 9001:2015. The standard is founded on several quality management principles, including a clear focus on meeting customer requirements, strong corporate governance, and leadership commitment to quality.
Kinsmen Group is a member of quality and standards organizations such as Process Industry Practices (PIP), Capital Facilities Information HandOver Specification (CFIHOS), and the American Productivity & Quality Center (APQC), the world's foremost authority in benchmarking, best practices, knowledge management, and process and performance improvement.
ISO 9001:2015 also stresses a process-driven approach to meeting objectives and an emphasis on continuous improvement. Kinsmen Group, a member of the M-Files Partner Program, met the strict
ISO 9001: 2015 requirements through its use of the M-Files intelligent information management solution. More specifically, the Kinsmen Group utilized the M-Files platform and M-Files Process Maps to prove organizational consistency, improve process efficiency, and facilitate overall transparency during the certification process to demonstrate quality and compliance.
"Through its streamlined implementation and configuration process, M-Files made it extremely easy to prepare for our certification," said Stephanie Clarke, quality manager at Kinsmen Group. "M-Files replaced Dropbox as our primary repository for content, allowing us to use artificial intelligence to manage business-critical documents and information with an increased level of convenience and compliance. This proved to be highly beneficial during the certification and auditing processes."
"M-Files equips businesses operating in frequently audited environments with intelligent information management solutions that help them meet rigorous quality requirements," said Greg Milliken, senior vice president of marketing at M-Files. "As regulatory climates demand more visibility into key business processes and workflows, companies are increasing turning to AI-powered solutions like M-Files to help them demonstrate and achieve compliance." In addition to Kinsmen Group, M-Files achieved recertification for ISO 9001:2015 in May 2018 using its own information management and QMS solution.
For more information on the M-Files intelligent information management solution, visit https://www.m-files.com/en.
About Kinsmen Group
Operating globally from locations in the U.S. and the U.K., Kinsmen Group helps asset-intensive companies digitally transform their complex engineering information into business intelligence that is used to rapidly empower their workforce, optimize operations and gain the competitive advantage. Kinsmen Group consultancy and technical services help meet the compliance, safety, efficiency and business goals of owner-operators and engineering, construction and procurement companies. For more information, visit https://www.kinsmengroup.com.
About M-Files Corporation
M-Files provides a next-generation intelligent information management platform that improves business performance by helping people find and use information more effectively. Unlike traditional enterprise content management (ECM) systems or content services platforms, M-Files unifies systems, data and content across the organization without disturbing existing systems and processes or requiring data migration. Using artificial intelligence (AI) technologies in its unique Intelligent Metadata Layer, M-Files breaks down silos by delivering an in-context experience for accessing and leveraging information that resides in any system and repository, including network folders, SharePoint, file sharing services, ECM systems, CRM, ERP and other business systems and repositories. Thousands of organizations in more than 100 countries use M-Files for managing their business information and processes, including NBC Universal, OMV, Rovio, SAS Institute and thyssenkrupp. For more information, visit www.m-files.com.